Halloween is right around the corner, so it's about time we picked out our costumes. With the Y2K style revival staying one of the hottest trends in 2021, the most fashionable costumes this Halloween will be our favorite singers, actors, and movie and television characters from the early 2000s. Whether you want to go all out and order a yellow plaid suit to match Cher Horowitz's from Clueless, or you'd rather stick with a simple cargo shorts and white camisole look to emulate Avril Lavigne, there are plenty of choices. Remember to wear your finest thick eyeliner and crimp your hair to the best of your abilities!
Christina Aguilera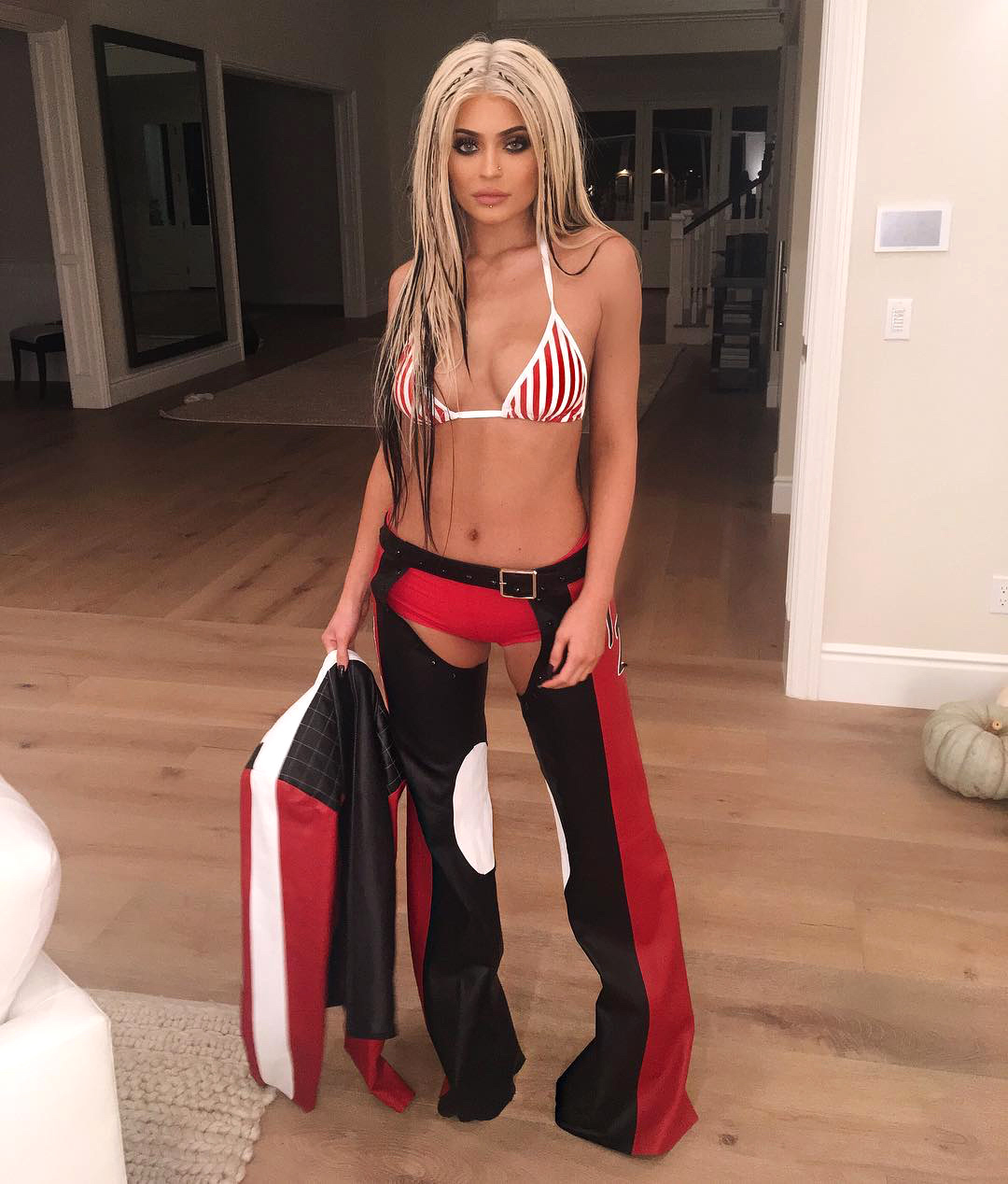 Get dirrty this Halloween by dressing up as the one and only Xtina. Kylie Jenner killed it back in 2016 when dressing up as the iconic look from her "Dirrty" music video, with every detail, down to the blond braided hair, nose ring, and trousers. If you're having trouble mastering this exact look, don't worry, Aguilera has several from which to choose.
Aaliyah
The late Princess of R&B and Queen of Urban Pop should always be honored, and when better to tribute her than on Halloween? The sparkling bikini top, choker, and belt set was one of her most stunning looks, although there are a ton from which to choose. Remember to match your makeup with sparkly eyeshadow!
Pamela Anderson
It's always a safe choice to dress up as the star of the original Baywatch and vintage icon. Just grab a red swimsuit, a boogie board, and get ready to save some lives! But don't forget to pluck your eyebrows first…
The Spice Girls
If you want to be my lover, you'll dress up as the Spice Girls for Halloween. A classic group costume for friends, you can never go wrong dressing up as Posh Spice, Scary Spice, Baby Spice, Sporty Spice, and Ginger Spice. Grab your boots and microphone and you're set!
Britney Spears
Why not dress up as Spears during one of the most influential years of her life? The super star is shortly on her way to gaining freedom from her long-lasting conservatorship, and one of the best ways to show support might be by dressing up as the singer to match her hit, "Oops!…I Did it Again."
Paris Hilton and Kim Kardashian
Name a more iconic group of besties from the early 2000s…yeah, we can't either. These two have a ton of stellar photos together of their best 'fits, so there are plenty of options for how to dress up as Hilton and Kardashian this year, from velour tracksuits to sparkly dresses.
Isis from Bring It On
Gabrielle Union's breakout role, you can't go wrong by dressing up as Isis or any of the East Compton Clovers from Bring it On. If you wanted to be a cheerleader more than anything after watching this movie as a kid, here's your chance.
Jenna Rink from 13 Going on 30
13 Going on 30 is arguably one of the best early 2000s films, and we can't think of a more recognizable costume idea for those who love pop culture. Make sure to style your finest updo and grab all of your favorite Y2K jewelry for this one.
Avril Lavigne
The original punk rock queen of Y2K, dressing up as Avril Lavigne is always a good idea. Her fashion in the early 2000s mostly consisted of streetstyle looks, so put on your finest cargo pants and camisole, add a tie, and you're good to go.
Mia Thermopolis from The Princess Diaries
The most relatable royal we've ever seen (sorry, Meghan Markle), every little girl was waiting to turn 16 for their parents to tell them they were secretly a princess after watching The Princess Diaries. For this one, you can dress as school Mia or Princess Mia.
Sharpay Evans from High School Musical
I want "Fabulous" this Halloween – so why not dress up as Sharpay Evans? Alongside Elle Woods, she literally invented the color pink. Remember to pick up some blonde hair extensions, the pink snakeskin skirt, that Jimmy Choo hair tie, and a pink Prada tote.
The Plastics from Mean Girls
Even though Halloween is on a Sunday, not a Wednesday, you'll still need a lot of pink for this one. Enter the Plastics from Mean Girls, another classic film. Grab three of your besties and pick out the best pink shirts and sweaters you have.
The Cheetah Girls
One of our favorite early 2000s girl groups, the Cheetah Girls basically taught us how to be confident. This one is simple, but effective – pretty much all you'll need are sweat suits in four different colors – but don't forget the most crucial part: the headbands.
J.Lo
You can't forget how gorgeous Jenny from the Block looked at the 2000s Video Music Awards. A white crop top, bandana, and jeans will suffice for this one, and make sure you put on your biggest hoop earrings.
Lizzie McGuire
It would be an understatement to say that Lizzie McGuire was one of the biggest style icons of the early 2000s. The multicolor sweater and orange patterned pants are just the tip of the iceberg when it comes to her fashion sense. A hair crimper is absolutely required for this costume.
Sex and the City
Are you a Carrie, Miranda, Samantha, or a Charlotte? With And Just Like That…, the Sex and the City reboot, premiering in December, there's no better time to dress up as one of the most influential pop culture women of the 2000s. Whether you want to wear Carrie's iconic fluffy skirt or Charlotte's cherry bikini top, there are plenty of options.
Elle Woods from Legally Blonde
Dress up as Elle Woods for Halloween? What, like it's hard? We could all use a little inspiration from our favorite film lawyer these days, and who doesn't need a pink power suit? Channel Woods through this pink dress, or her sparkly bikini top – both will definitely be recognizable.
Kat and Biance Stratford from 10 Things I Hate About You
One of the most popular rom-coms of the early 2000s, 10 Things I Hate About You gave us a pair of dynamic and opposite sisters – both in personality and aesthetic. With your real-life sister or bestie, dress up as Kat, who is pessimistic and edgy, or Bianca, who is innocent and sweet.
Dionne and Cher from Clueless
I am, like, totally buggin'…to have these plaid blazer and skirt sets. Cher Horowitz was nothing if not one of the best film style icons of the early 2000s, and we're here for it. For this costume, you'll need lots of yellow and black and white plaid, cute bags, and you can't forget Di's hat.
Raven Baxter from That's So Raven
If you could gaze into the future, you'd know that Raven Baxter makes for a great Halloween costume. Her sense of style was always on point, from her pink bandanas, to fluffy collars on her jackets, gorgeous boots, and more. There are tons of 'fits to choose from for this costume, but make sure you remember sunglasses!
Kim Possible
Call me, beep me, if you wanna reach me. Last but not least, we have the iconic Miss Kim Possible. This costume is pretty simple, with green cargo pants, a belt, a black shirt, and boots required, and Ron Stoppable optional.